A Sweet Journey with Kemal Ozcan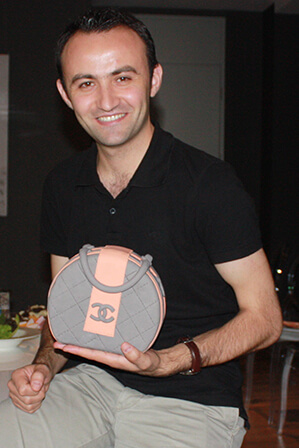 With our years of experience, we aim to produce chocolate and pastries that you can only see in the different parts of the world with using local products in our country, to offer you wonderful tastes in the field of pastry and chocolate. As a company understanding, we do not see ourselves as a factory or manufacturing house that produces industrial products. We have a staff that loves this job and leading expert in this field, professionalized and connected to the job with excitement.

He graduated from Mengen Anatolian Culinary Vocational High School, studied at Switzerland on candy and confectionery, graduated from Callebaut chocolate school in Belgium and Valrhona modern pastry school in Paris and worked as pastry chef assistant in one of the well-known hotel in Middle Eastern, Al Bustan Palace InterContinental in Umman. We believe in the same values that we have to give the best of we do.

In the restaurant dessert category, he selected as the best pastrycook in Turkey in 22 years old. Ritz Carlton has integrated its own desserts in Doha to Michel's star chefs Chef Denis Depoitre and Chef Michael Voltaggio menus. He worked as pastry chief in globally known hotels as Crowne Plaza, W Hotel Hong Kong, Ritz Carlton Doha, Ritz Carlton Dubai, Grand Hyatt Doha, then made the wedding cake of daughter of Amir of Qatar after that, he produced the pastries and breads of special flights of Amir of Qatar, made special chocolates for Qatar Airways. He is granted the best cup cake, the best Brunch-Dessert Buffet, the best Gourmet Patisserie grand awards by the TIME-OUT Doha magazine.